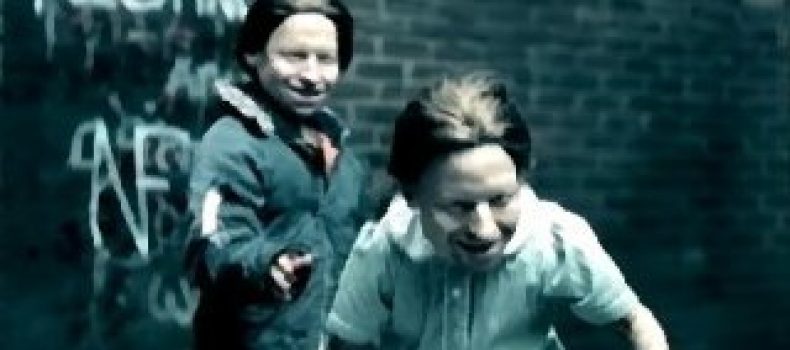 'Come to daddy' di Aphex Twin, Hellraiser e i Teletubbies
Richard David James aka Aphex Twin, irlandese classe 1971, il Mozart dell'elettronica, enfant prodige che comincia a produrre già da tenera età, fondatore della Rephlex Records, è stato negli anni '90 un punto di riferimento fondamentale per lo sviluppo della techno.
A proposito di 'Come to Daddy', Aphex ha affermato che la sua track 'came about while I was just hanging round my house getting pissed and doing this crappy death metal jingle. Then it got marketed and a video was made, and this little idea that I had, which was a joke, turned into something huge. It wasn't right at all.'
Il video è stato girato da Chris Cunningham, che all'età di 17 anni si fece assumere come addetto agli effetti speciali presso i Pinewood Studios dove si stava realizzando il film horror diretto da Clive Barker, Hellraiser II: Prigionieri dell'inferno. 
Chris Cunningham
Nel 1995 Cunningham comincio' la sua carriera come regista di videoclip: realizzo' infatti Second Bad Vilbel per gli Autechre. La notorietà pero' arrivo' nel 1997 quando venne contattato dalla label Warp Records per occuparsi della realizzazione del clip Come to Daddy.
Il brano è composto da potenti beats drum'n'bass, mentre le frasi 'Come to Daddy' e 'I want your soul' sono trattese dal film del 1987 Hellraiser scritto e diretto da Clive Barker e rese in stile death metal.
Nel video di sotto, invece, il paesaggio dei Teletubbies, che di solito e' colorato ed allegro, questa volta e' in bianco e nero ed assume un'atmosfera sinistra. Con la colonna sonora di "Come To Daddy" di Aphex Twin, poi, diventa quasi un film horror.
"We've got the bit where Po falls and rolls down the hill on loop".
Fonte: Stream of Musicness
(Karol aka Skatena)