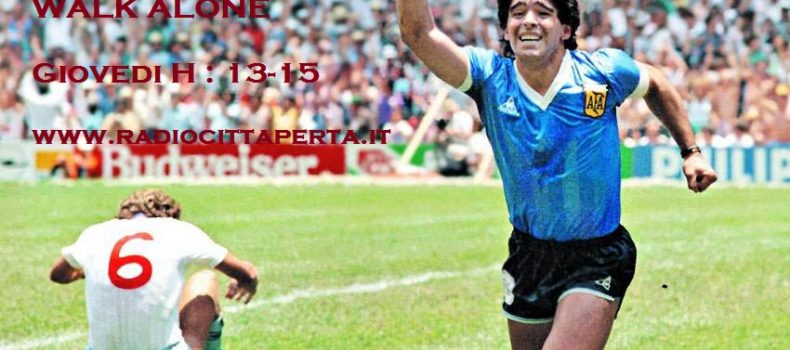 You'll never walk alone 17-11-2016
Playlist You'll never walk alone 17-11-2016
Leonard Cohen – Dance me to the end of love
Fabrizio De Andrè – Nancy
Bob Marley – Three little birds
Jimmy Cliff – Miss Jamaica
Ska – J – Te gusta el futbol?
Cockney Rejects – I'm forever blowing bubbles
Tottenham Hotspur F.C. – Hot Spurs Boogie
Shots in the dark – Hooligan ska
The Kinks – Dedicated follower of fashion
Mano Negra – Malavida
Danno ft Suarez & Chef ragoo – Strozzapreti alla romana
De La Soul ft. Snoop Dogg – Pain
Keny Arkana – Je me barre
Sound of Rum – End Times
James Brown – Say it loud
Assalti Frontali – Il rap della Costituzione
Motorama – Heavy Wave
Joy Division – Disorder
The Smashing Pumpkins – 1979
The Clash – Police on my back
The Stooges – No fun
Blur – Coffee and tv
Nas & Damian Marley – As we enter
Buju Banton – Champion
Rage Against the Machine – Guerilla radio
System of a down – Chop suey!
The Ramones – Judy is a punk
The Adicts – Viva la Revolution