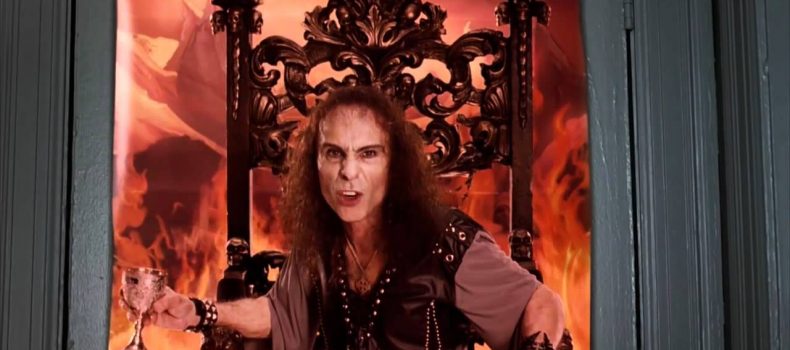 Ronnie James Dio nel film "Tenacious D e il destino del rock"
di Skatèna
Love is a never ending smile ("Wishing Well" on Heaven and Hell – 1980)
10 luglio del 1942 – Nasceva a Portsmouth una leggenda dell'heavy metal, il cantautore statunitense di origini italiane Ronnie James Dio, noto per essere stato il leader dei Rainbow e dei Black Sabbath, e anche per aver fondato la band Dio.
Molti di voi potrebbero pensare che il suo soprannome abbia a che fare con qualcosa di religioso, ma non è così: Ronnie iniziò ad utilizzare lo pseudonimo di Dio quando da giovanissimo faceva parte di un gruppo rockabilly in cui suonava la tromba, ispirandosi ad un gangster americano di origini italiane, tale Johnny Dio.
Ronnie è divenuto famoso anche per il gesto delle corna, tanto che da molti ne è ritenuto l'inventore, e ben potrebbe essere così, viste le sue origini italiane. Egli stesso ammise di averlo appreso dalla sua nonna, chiarendo che il gesto aveva un valore apotropaico.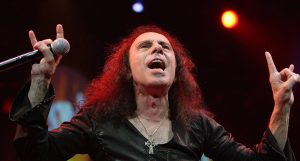 Per festeggiare il suo compleanno, voglio proporvi uno spezzone di Tenacious D e il destino del rock (Tenacious D in The Pick of Destiny), film del 2006 diretto da Liam Lynch che racconta in chiave comica la storia dei Tenacious D, band che esiste realmente, formata dal duo di protagonisti Jack Black e Kyle Gass.
Nel film, Ronnie fa una comparsata ricoprendo il ruolo di se stesso: uno spirito che fuoriesce dal suo stesso poster e parla con il protagonista del film, invitandolo ad andare a Los Angeles per seguire il suo sogno di diventare una rockstar. Dio ha anche collaborato con i Tenacious D per la realizzazione della colonna sonora. Ad ogni modo, vi consiglio di vederlo tutto il film: ne vale davvero la pena!