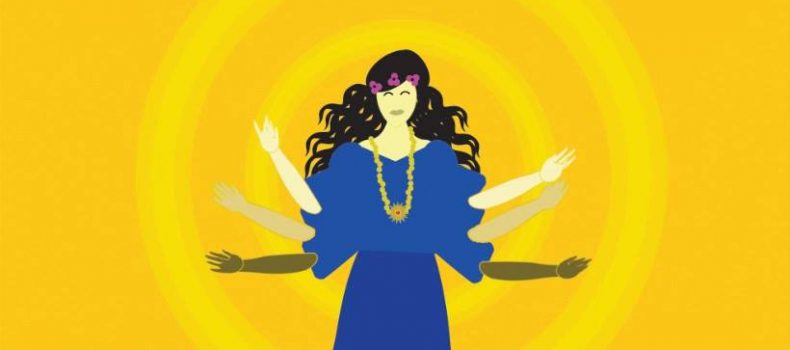 Radio Città Aperta media partner del festival salentino della Sagra Elettronica
Radio Città Aperta è media partner della seconda edizione della Sagra Elettronica, il festival salentino multidisciplinare di gastronomia e musica contemporanea che si terrà nella suggestiva cornice della

Masseria

Ospitale

, a pochi chilometri da Lecce, sabato 27 Luglio 2019.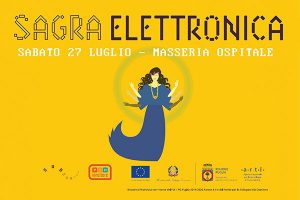 Data: Sabato 27 luglio alle ore 18:00 fino a domenica 18 luglio alle ore 18:00
Location: Masseria Ospitale S.p. 131 Lecce T.re Chianca km. 4,5 (loc. Masseria Ospedale), 73100 Lecce
Tickets: https://www.diyticket.it/events/Musica/2708/sagra-elettronica-lecce-biglietti
"BY WORKING THE SOIL WE CULTIVATE THE SKY" AND [THE] "SKY'S THE LIMIT"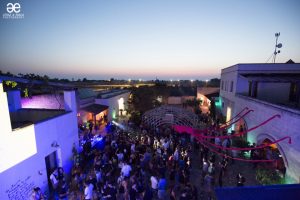 🎨 MANIFESTO (ITA // ENG)
Onde arabe e balcaniche, approdando nel porto più a Oriente, si sintonizzarono nell'entroterra di un'area chiamata Grecìa, marchiandola irrimediabilmente come il morso di una tarantola.
Salento è musica e libertà, terra di arrivi e partenze, di storie tramandate dal suono della parola e pitture rupestri che, come radici, penetrano nel substrato caratterizzato da macro-invasioni e micro-collettività. Questo incastro di flussi e tradizioni, l'aggrovigliarsi e il lasciarsi assorbire, è la linfa dei nostri frutti. Il loro continuo muoversi come corpi danzanti, sgretolando le barriere del linguaggio, chiama le consolidate individualità alla trasformazione.
Adesso, non lasciamo che limiti invalicabili impediscano il ripetersi del cerchio storico; per non annegare affidiamoci all'abilità intrinseca della struttura ritmica, ora capace anche di rappresentare nuovi tessuti e liberarci dai confini materiali imposti.
Dal tonale all'atonale, dai canti delle prèfiche ai fondali delle dancehall pirata, dall'elegie pizzicate sui tamburelli alle ceneri della club-culture: questa è la nostra militanza.
Esploriamo il #liminale.
Sagra elettronica è un festival multidisciplinare che destruttura la tradizione codificata e mercificata, ricollocandola nella sua essenza originale: la sperimentazione.
Nella naturale cornice della Masseria Ospitale, a rincorrersi saranno contaminazioni, contrasti e provocazioni per dare vita ad un format folkloristico contemporaneo capace di valorizzare gli attributi e gli aspetti più intimi del nostro territorio.
Retrò e avanguardia si spintonano, outsider contemporanei si presentano alla corte di artisti locali storicizzati, tutti con la pretesa di vivere nello stesso spazio; live e dj set, lontanamente imparentati da strutture ritmiche e compositive affini, dissacrano Il dogma dei generi musicali.
Un excursus che, tra #tarantata, early & noir #dub, canti ipnotici ed #elettronica sciamanica, sarà capace di disegnare una mappa di suoni dal mondo senza barriere.
La #cucina, nascosta, esalta gli ingredienti di stagione tipici del territorio salentino – pesce, carne e verdure – reinterpretandoli in piatti unici e ricette street e finger food per carnivori, vegani e celiaci.
La familiarità della putea sposa la cultura anglosassone delle public house: #vini bianchi, sfumature di rossi e #birre artigianali dagli stili pindarici accompagneranno, come damigelle di nozze, le danze al bancone.
Nell'area #mercatino, il fiero braccio dell'artigianato locale accoglie l'intellettualità resiliente di librerie e piattaforme creative indipendenti; gli spazi della Masseria, ornati da body #performance, #mostre fotografiche e #installazioni contemporanee, sedurranno i vostri sensi.
La forma e la banalità costruite dalla cultura imperante vengono sgretolate dalla voglia di andare al di sopra; l'ossigenazione delle radici rigenera dallo sfruttamento del territorio, l'atomismo sociale collassa sotto il peso del rituale collettivo, il liminale sublima lo stantio del reale.
//
Inspired by homonymous Apulian folkloristic events, Sagra Elettronica is an experimental multidisciplinary festival taking place in a Masseria – a fortified farmhouse building, typical to the region. The one-day festival aiming to push the boundaries imposed by superstructure, tears apart the categories and genres that have defined discrimination, and houses a hybrid civilization which thrives in a renewed collective consciousness.
From dusk until well beyond dawn, the twelve hours will be brimming with pulsating rhythms spanning from early, noir dub and digi-dancehall to avant-garde electronic and fast club-culture. The esoteric ritual of Tarantata and diverse body performances will enchant guests, while local heroes and well known artists like Aisha Devi, Nkisi and Jay Glass Dubs will deliver steady doses of transcending tunes designed to liberate minds.
The event will be complete with food stands selling a wide choice of local specialties, craft beers, as well as a dissident book corner and an alternative market selling a mix of original fashion, hand-crafted accessories, unique gifts and everything in between. This mystical experience will be further intensified by other stimulating inputs, like, for instance, the timeless connection between expressionist Ugo Tapparini's retrospective paintings and contemporary installations about dramatic Mediterranean realities – specifically, the international "Fata Morgana" exhibition by photography artist Alessia Rollo, plus other coherent art showcases.
Bring no prejudice and get ready to explore the #liminal.
//
🚙 COME ARRIVARE // HOW TO REACH THE VENUE
Zemove offre corse private andata e ritorno su prenotazione da Lecce verso l'evento. Info al 320 3020113 o sul sito: http://www.zemove.it/raggiungi-il-festival-sagra-elettronica-2019/
Please feel free to contact Zemove and book your private taxi.
Email: giorgio.mele@zemove.it
Call: 0039 320 3020113
🎧 LINEUP
Aïsha Devi LIVE
Arcangelo
DJ WAR
ENA GHEMA a.k.a. ONE BLOOD
Gauna & Mocry ft. Brokafloor vs New Ballet LIVE
Jay Glass Dubs LIVE
Larssen LIVE
Nkisi
Serena D'Amato ft. Tarantranse Orchestra LIVE
🦄 PERFORMANCES & INSTALLATIONS
Alessia Rollo present 'Fata Morgana' mostra / exhibition
Massimiliano Manieri present 'Nulla è come appare' performance
Pantaleo Musarò present 'H(e)aven' installazione / installation
Sharada present Ugo Tapparini 'Critica Laica' retrospettiva / restrospective
🌊🌎 7 SEAS AREA
vintage market / chill area / arts secret hangar / book corner
Gabriele Coppini "Vinyl Neat"
Paolo Ferrante "I Trionfi"
-> #performances / #installations
Luminterra Gustavo / art design
Veronica Idaver performer
Gabriele Turco / Fresh Rucola "Lucid Club"
Luisa Carlà "No Signal TV"
-> #artists
Elena Carluccio
Giulio Federico
Fabrizio Fontana
Elena Franchini
Angela Grancagnolo
Laura Greco
K3in3 F4rb3
Veronica La Greca
Anna Lisa Melcarne
Mattia Morelli
Simone Miri
Valeria Puzzovio
Francesco Sambati
Chiara Spinelli
AndyTrema
Ilenia Urso
-> #bookcorner
Edizioni Bepress
Ergot Edizioni
Besa editrice
🐙 🍆 🍔 CIBO // FOOD
menù street e finger food, piatti unici e panini di #carne, #pesce, #vegano, #senzaglutine
sandwitches + single dishes menù: #meat, #fish, #vegan, #glutenfree receipts which fits any dietary need
concept by chef Anna Quarta
🍺 BIRRA // BEERS
angolo birre artigianali Bluebeat Pub
local craft beers selected by Bluebeat Pub
🍷 VINO // WINE
rosso, rosè e bianco
red, rosè, white local wines
by Cantina Vecchia Torre
🇫🇲 ISTITUZIONI // INSTITUTIONS
Col patrocinio gratuito di
Puglia Sounds
Comune di Lecce
Distretto Produttivo 'Puglia Creativa'
🔗 PARTNERS
Arcigay Salento
Apuliart Contemporary
Atraz Emilia
The Bluebeat Pub
DISCIPLINE
Knick Knack
LeA- Liberamente e Apertamente
LO.FT
Officine Culturali Ergot
Ra.Ne. – Rainbow Network
Sharada
Start Events
Sunday Open Market
Zemove
🔉 MEDIA PARTNERS
Trax Magazine
Danceland
Dots Unlimited Radio
Kalporz
Radio Città Aperta
Rete SOLCHI SPERIMENTALI
Sentireascoltare
Soundwall
Urkaonline.it
🌀 ORGANIZZAZIONE // PRODUCTION
Sud Sonico
Sagra Elettronica è un evento che rientra nell'ambito del progetto Sud Sonico, Vincitore PIN – Iniziativa promossa dalle Politiche Giovanili della Regione Puglia e ARTI e finanziata con risorse del FSE – PO Puglia 2014/2020 Azione 8.4 e del Fondo per lo Sviluppo e la Coesione.