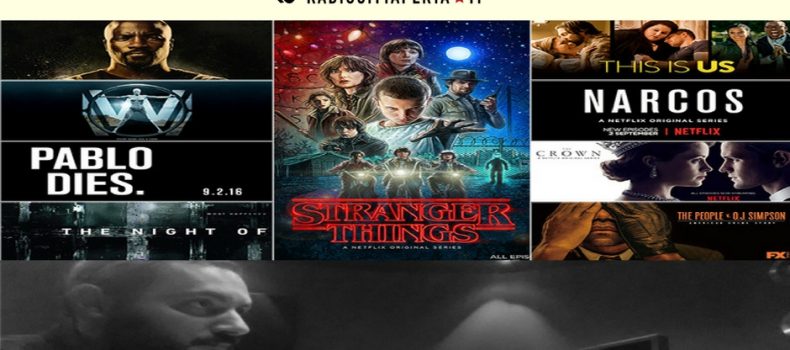 La coscienza di uno speaker – Podcast e playlist 27.09.2017
Dopo la prima puntata focalizzata sulla fine di una relazione, ci sono state molte vittime che hanno sofferto per il passaggio di alcune canzoni. La loro speranza di recuperare il rapporto è stata distrutta nell'arco di 120 minuti. Quindi era necessario fare una trasmissione meno crudele.
Il ruolo del supervisore musicale. Le scelte vincenti. La forza visiva di una scena guidata da un determinato brano. Da The Sinner a The Young Pope, viaggio sonoro nei suoni delle serie tv.
2 ore più 30 minuti di sforamento non autorizzato, in cui potrete guardare con le orecchie.
House Of Cards
Jeff Beal – Saved My Life / House Of Cards S5E11
Jeff Beal – House Of Cards Main Theme / Season 2
Jeff Beal – House Of Cards Main Theme / Season 5
Fargo
Jeff Russo – Bemidji, MN / Fargo Series Main Theme S1
Jeff Russo – Wrench and Nikki Steal A Trcuk / Fargo S3E9
Big Little Lies
Crosby,Stills,Nash & Young – Helpless / Big Little Lies S1E7
Ituana -You Can`t Always Get What You Want / Big Little Lies S1E7
Intervista telefonica con Riccardo Cocozza (Akoros – Soundtracks & SoundDesign), responsabile audio di prodotti audiovisivi / fonico di mix
Stranger Things
Kyle Dixon & Michael Stein – Stranger Things
Master Of None
Lucio Battisti – Amarsi Un Po / Master Of None S2E9
Better Call Saul
Massimo Ranieri – Se Bruciasse La Città – S1E1
Gomorra
Mokadelic – Doomed to live
Cinzia Oscar – Nun So' 'Na Bambola / Gomorra S2E9
Ivan Granatino feat. Franco Ricciardi – A' Storia e Maria / Gomorra S1E1
Enzo Dong – Secondigliano Regna S2E12
The Sinner
Big Black Delta – Huggin & Kissin
The Young Pope
Devlin – Watchtower
Nada – Senza Un Perchè
The Get Down
Get Down Brothers vs. Notorious 3
Michael Kiwanuka feat. Nasir Jones – Rule the World (I Came from the City)
Sherlock
Nina Simone – Sinner Man S2E3
Flight Of The Conchords
Flight Of The Conchords – Inner City Pressure
South Park
Cowboy Timmy – Mr. Hankey the Christmas Poo / South Park S1E9
Cartman – Poker Face / South Park S11E13
Kayne West (Trey Parker) – Gayfish / South Park S13E15