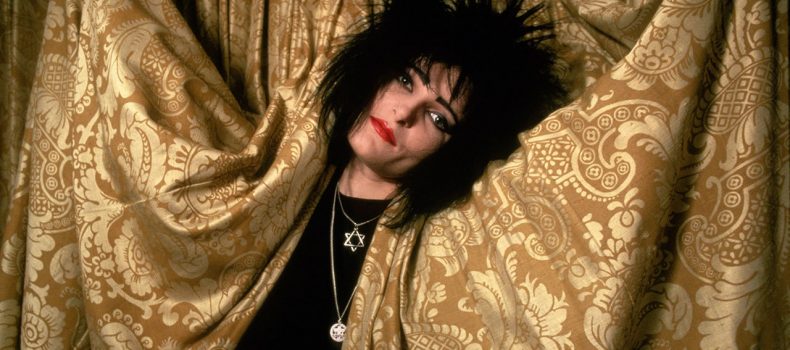 "Dear Prudence" di Siouxsie And The Banshees
The wind is low the birds will sing
That you are part of everything
Dear Prudence won't you open up your eyes?
27 maggio 1957 – Nasce a Londra la cantante inglese Siouxsie Sioux.
Siouxsie, all'anagrafe Susan Janet Ballion, da giovanissima entra a far parte del Bromley Contingent, gruppo di eccentrici fans dei Sex Pistols. Frequenta i clubs più controversi di Londra e si diverte a dare scandalo strizzata in ridottissimi top in pelle, calze a rete e tacchi vertiginosi, in puro stile bondage.
I suoi amici Vivienne Westwood e Malcom McLaren mettono su SEX, il primo leather clothing shop di Londra, futuro centro nevralgico del costume e della moda britannici, baluardo del movimento fashion punk. Nel 1976, a soli 19 anni, Siouxsie si esibisce per la prima volta col suo gruppo a un punk rock festival organizzato da McLaren al "100 Club" in Oxford Street. La sua performance, improvvisata perché non contemplata in line up, entrerà nella storia, con l'allora sconosciuto Sid Vicious alla batteria "per una strampalata esecuzione musicale, il Padre Nostro urlato ininterrottamente davanti a un pubblico di scalmanati, per lo più maschi ubriachi e molesti."
Festeggiamo il compleanno di Siouxsie con il videoclip girato a Venezia della sua magnifica cover di Dear Prudence dei Beatles, registrata nel 1983 dai Siouxsie and the Banshees, ed uscita come singolo (entrò immediatamente nella top 10 inglese)
Dear Prudence è stata scritta da John Lennon (e accreditata a Lennon-McCartney) nel 1968, ed è stata originariamente pubblicata come seconda traccia del White Album.
Nelle lyrics, Lennon esorta Prudence Farrow, sorella minore dell'attrice Mia, ad uscire da un lungo periodo di meditazione all'interno della sua camera a Rishikesh.
Si dice che l'arpeggio in re maggiore che accompagna la strumentazione durante tutto l'arco del brano fu insegnato a Lennon da Donovan, anche lui ospite del Maharishi Mahesh Yogi. La batteria è suonata da McCartney per sopperire al momentaneo abbandono volontario dal gruppo di Ringo Starr.