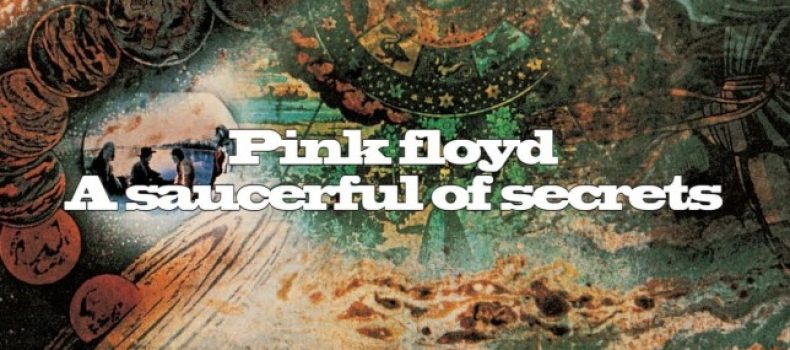 A Saucerful Of Secrets dei Pink Floyd
«It's awfully considerate of you to think of me here
And I'm most obliged to you for making it clear
That I'm not here
And I'm wondering who could be writing this song…»
«È estremamente gentile da parte vostra pensarmi qui
E vi sono molto grato per aver chiarito
Che in realtà non sono qui
E mi chiedo chi potrebbe scrivere questa canzone …»
(Jugband Blues, Syd Barrett)
28 giugno 1968 – I Pink Floyd pubblicano il loro secondo album A Saucerful Of Secrets (label Columbia Graphophone Company).
Registrato tra l'agosto 1967 ed il maggio 1968 presso gli EMI Studios di Abbey Roade ai Sound Techniques Studios di Chelsea, l'album fu prodotto da Norman Smith.
Si tratta dell'ultimo lavoro dei Pink Floyd a cui Syd Barrett prese parte prima di essere estromesso dal gruppo. Proprio in quel periodo Barrett cominciò ad avere seri problemi di carattere psichiatrico e psicologico. In sua presenza, infatti, le sessioni di registrazione risultarono lunghe e difficoltose e Syd non riuscì a parteciparvi compiutamente, per colpa del suo stato di alienazione. Le uniche apparizioni di Barrett in quest'album furono la chitarra su Remember a Day (originariamente intitolato Sunshine e pensato per The Piper at the Gates of Dawn), Set the Controls for the Heart of the Sun, Corporal Clegg e Jugband Blues, unico brano da lui scritto e cantato.
La cover e le foto sono dell'Hipgnosis, che era uno studio fotografico e di grafica specializzato nella creazione di copertine per album musicali di cui faceva parte Storm Thorgerson, che si occupò della realizzazione di alcune copertine dei Pink Floyd.
Per promuovere l'album, il gruppo intraprese il World Tour 1968, durato per tutto il 1968.
La versione del brano Set the Controls for the Heart of the Sun contenuta in quest'album è l'unica nella discografia floydiana in cui suonano insieme tutti e cinque i membri della band.
In un'intervista per il documentario del 2006 Which One's Pink?, Gilmour ha affermato che Set the Controls for the Heart of the Sun contiene alcune parti per chitarra suonate sia da lui sia da Barrett, ed è questo a rendere unica canzone. Nel libro di Bruno McDonald, Pink Floyd – through the eyes of…, Roger Waters ha detto che per le lyrics "ha preso in prestito" le parole di un libro di poesie cinesi del periodo della dinastia Tang.
Over the mountain
Watching the watcher
Breaking the darkness
Waking the grapevine
Knowledge of love
is knowledge of shadow
Love is the shadow that ripens the wine
Set the controls for the heart of the sun
The heart of the sun…