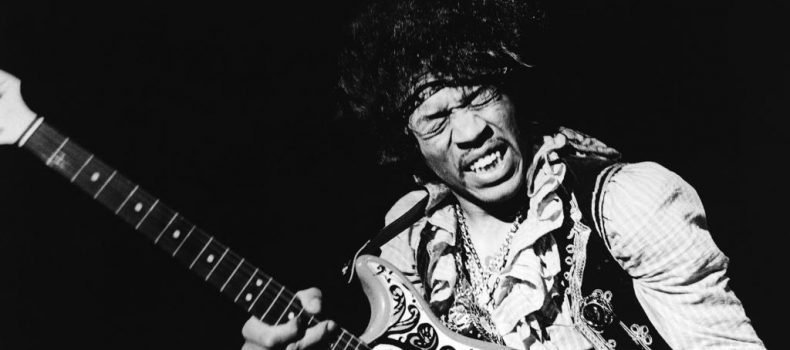 26 agosto 2003: la rivista Rolling Stone nomina Jimi Hendrix il più grande chitarrista della storia del rock
26 agosto 2003 – La rivista Rolling Stone nomina Jimi Hendrix il più grande chitarrista della storia del rock.
Jimi Hendrix è stato nominato il più grande chitarrista della storia nella classifica "100 Greatest Guitarists of All Time" stilata da Rolling Stone Magazine con l'ausilio di critici e musicisti.
Jimi Hendrix ha fatto esplodere quella che per noi è l'idea di come il rock dovrebbe essere: ha plasmato la sua chitarra, il tremolo, lo studio e anche il palco

Tom Morello (RAGE AGAINST THE MACHINE) citando i brani "Purple Haze" e "The Star-Spangled Banner"
Hanno contribuito a stilare la classifica lo stesso Morello, Kirk Hammett (METALLICA), Jerry Cantrell (ALICE IN CHAINS), Billy Corgan (SMASHING PUMPKINS), Mick Mars (MÖTLEY CRÜE), Mike McCready (PEARL JAM) e Dave Mustaine (MEGADETH).
Secondo quanto dichiarato da McCready, Eddie Van Halen è il "maestro dei riff" e Jimmy Page è colui che ebbe la "visione di come trascendere gli stereotipi che una chitarra poteva offrire"
Ecco parte della lista degli hard rocker secondo Rolling Stone:
01. Jimi Hendrix
02. Eric Clapton (CREAM)
03. Jimmy Page (LED ZEPPELIN)
04. Keith Richards (THE ROLLING STONES)
08. Eddie Van Halen (VAN HALEN)
11. Goerge Harrison (THE BEATLES)
17. Neil Young (CRAZY HORSE, PEARL JAM)
20. Carlos Santana
22. Frank Zappa
24. Angus Young (AC/DC)
25. Tony Iommi (BLACK SABBATH)
26. Brian May (QUEEN)
28. Johnny Ramone (THE RAMONES)
32. Billy Gibbons (ZZ TOP)
36. Randy Rhoads (OZZY OSBOURNE)
40. Tom Morello (RAGE AGAINST THE MACHINE)
44. Mark Knopfler (DIRE STRAITS)
50. Ritchie Blackmore (DEEP PURPLE)
65. Slash (GUNS N' ROSES)
73. Kurt Cobain (NIRVANA)
81. Lou Reed (VELVET UNDERGROUND)
87. James Hetfield (METALLICA)
92. "Dimebag" Darrell Abbott (PANTERA)
98. Alex Lifeson (RUSH)
(fonte Truemetal.it)
Ricordate quando Hendrix suonò a Woodstock 1969 la sua versione dell'inno americano The Star-Spangled Banner? Un mese dopo quella performance destinata a diventare leggenda, il chitarrista si presentò al Dick Cavett Show per spiegare la sua rielaborazione a mo' di protesta per la guerra in Vietnam della canzone, che infatti usava il feedback strozzato della chitarra per simulare il suono delle bombe che esplodono.
«Non so, amico», disse Hendrix a Cavett, appena dopo aver ammesso di aver dormito otto minuti la sera prima. «Sono americano, quindi l'ho suonata. Me la facevano cantare a scuola, quindi è stato un flashback.» (fonte: rollingstone.it)
Sul palco di Woodstock, Jimi salì con la sua nuova band, i Gipsy Sun and Rainbows, anche noti come Band of Gypsys. Suonò il lunedì mattina davanti a pochissimi e fortunati irriducibili in un oceano di spazzatura.