24 giugno 1967: "A whiter shade of pale" dei Procol Harum entra nella classifica di Billboard
di Skatèna
Saying, you must be the mermaid
Who took Neptune for a ride.
But she smiled at me so sadly
That my anger straightway died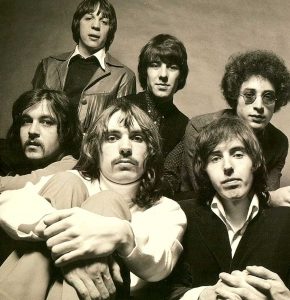 24 giugno 1967 – "A whiter shade of pale" dei Procol Harum entra nella classifica di Billboard.
Qui sotto, il videoclip girato con pellicola adatta per l'allora Scopitone, apparecchio simile al juke-box ma comprensivo anche di un visore.
Le riprese, effettuate da Peter Clifton con classico montaggio amatoriale, raffigurano la band che cammina intorno ad alcuni paesaggi inglesi, come il sito storico di Witley Court, Contea di Worcestershire. Molti fotogrammi inoltre sono ambientati a Londra, in particolare a Piccadilly Circus e Trafalgar Square.
A Whiter Shade of Pale, scritta da Gary Brooker, Keith Reid e Matthew Fisher, è stata pubblicata il 12 maggio 1967 dalla Deram Records e alla sua uscita riscosse un notevole successo, restando in cima alle classifiche del Regno Unito, europee e della Billboard Hot 100, dove arrivò quinta.
Nel brano si fondono perfettamente musica classica e soft rock.
Il riff-intro, composto dai pianisti Brooker–Fisher all'organo Hammond, è una libera variazione dell'Aria sulla quarta corda di Bach, mentre il groove del ritornello si ispira a When a Man Loves a Woman di Percy Sledge, brano uscito l'anno prima.
Il testo è opera del poeta e paroliere Keith Reid.
La canzone è stata coverizzata da svariati artisti; in Italia, su testo di Mogol, fu incisa dai Dik Dik col titolo Senza luce.
Indimenticabili le citazioni che ha ricevuto in numerosi film, come The Commitments, Il grande freddo e I cento passi nella scena finale del funerale di Peppino Impastato.