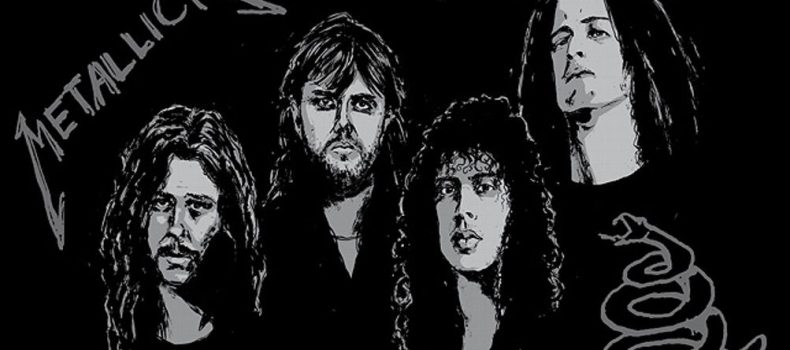 13 agosto 1991: esce The Black Album dei Metallica
Now I lay me down to sleep
I pray the Lord my soul to keep
If I die before I wake
I pray the lord my soul to take
13 agosto 1991: esce per la Elektra Records Metallica (conosciuto anche col nome di The Black Album), il quinto lavoro in studio dei Metallica.
Il disco, prodotto da Bob Rock (apprezzato dai Metallica per il suo lavoro in Dr. Feelgood dei Mötley Crüe) insieme a Hetfield e Ulrich, fu un enorme successo: con esso la band losangelina abbandò il thrash metal degli esordi per orientarsi verso sonorità rock più morbide e di sicuro più commestibili commercialmente. Ma, come ha detto giustamente qualcuno, fu l'inizio della fine, nel senso che se si è trattato, per chi ha incominciato ad ascoltarli con questo lavoro, di un disco indimenticabile, per chi invece li ha seguiti da Kill 'Em All, si è trattato di una prova inaccettabile (metallized.it).
Se si parla di Black Album, inevitabilmente in molti, anzi in troppi, finiscono col tesserne le lodi delle sue due celebri ballate, Nothing Else Matter e The Unforgiven, cosa che invece voglio evitare di fare accuratamente, non foss'altro perchè ne ho la nausea e non le sopporto. Ed infatti, preferisco di gran lunga presentarvi il clip ufficiale di Enter Sandman, singolo pubblicato il 29 luglio 1991 come primo estratto del disco, vincitore di un Grammy Award alla miglior interpretazione metal nel 1992 ed il cui testo è stato tratto da un fumetto dark a sua volta tratto da una favola (nella terza parte del brano, Hetfield e un ragazzino recitano Now I Lay Me Down to Sleep, una preghiera per bambini rivolta a Sandman, personaggio mitico del folklore nordeuropeo che si dice porti sogni felici cospargendo di sabbia magica gli occhi dei bambini mentre stanno dormendo.
Il videoclip di Enter Sandman è stato il secondo dei Metallica dopo One. Diretto da Wayne Isham e girato il 3 luglio 1991 a Los Angeles, è stato presentato in anteprima il 30 luglio, due settimane prima dell'uscita del Black Album. Il protagonista è un bambino che ha degli incubi e in alcune scene viene mostrato un sandman (interpretato da R.G. Armstrong) mentre il gruppo esegue il brano. Il videoclip è stato premiato come Miglior video rock durante gli MTV Video Music Awards 1992 ed è stato nominato per la Migliore cinematografia e il Miglior montaggio
Di Enter Sandman sono state realizzate varie cover nel corso degli anni, tra cui ricordo quella di Lemmy Kilmister dei Motörhead:
Ironica la cover in italiano dei Nanowar of Steel, gruppo metal demenziale di Roma, con il titolo Entra l'uomo di sabbia ("Sogni di guerra, sogni di pace, sogni del pollo alla brace!"): della serie, come distruggere i Metallica in 3, 2, 1 …
Ma siccome sono una nostalgica affezionata ai primi Metallica, la mia traccia preferita di tutto l'album resta forse Through the Never, coi suoi riff cattivelli, complessivamente un pò più aggressiva rispetto alle restanti: