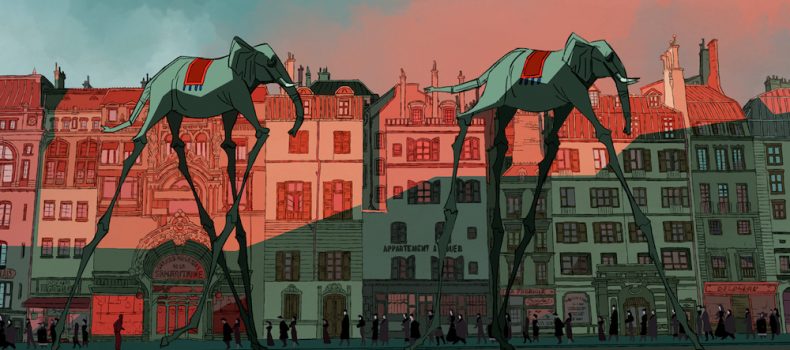 Il trailer di "Buñuel in the Labyrinth of the Turtles", il film animato di Salvador Simó
a cura di Skatèna
Buñuel in the Labyrinth of the Turtles: questo il titolo del film d'animazione di Salvador Simó che racconta la storia del grande regista spagnolo/messicano Luis Buñuel alle prese con la realizzazione di un documentario. Ecco per voi il trailer:
Nato a Calanda (Aragona, Spagna) il 22 febbraio 1900, Buñuel è stato uno dei maggiori registi del XX secolo ed uno dei più celebri esponenti del movimento surrealista. Artista dalle molteplici doti, è stato non solo attivo nel mondo del cinema ma fu anche poeta e compositore.
A causa della feroce dittatura franchista instauratasi in Spagna, per un periodo Buñuel, come molti intellettuali, fu costretto a lasciare il Paese e ad operare altrove, tra Francia, Usa e Messico. Nei suoi film affronta diverse tematiche, dalla natura dell'inconscio all'irrazionale, dalla sessualità alla critica anti-borghese e anti-clericale.
Nel corso della sua carriera cinematografica, fu insignito di numerosi premi e riconoscimenti, tra i quali si ricordano l'Oscar al miglior film straniero nel 1973, la Palma d'Oro al Festival di Cannes nel 1961 e il Leone d'Oro alla carriera alla Mostra del Cinema di Venezia nel 1982.
La trama di Buñuel in the Labyrinth of the Turtles
Dopo essere stato bannato dall'industria cinematografica francese in seguito allo scandalo suscitato dal suo L'Age D'Or, diretto nel 1930 insieme a Salvador Dalì, Buñuel decise di documentare in un film la vita in una delle zone più povere della Spagna, Las Hurdes. Aiutato economicamente dal suo amico scultore Ramón Acín, reduce da una vittoria alla lotteria, il regista si imbarca in un'impresa complicata e sconvolgente, che cambierà la sua visione del mondo e dell'arte.

"Facendo questo film ho avuto l'opportunità di conoscere meglio Buñuel", ha commentato il regista Salvador Simó in un'intervista, "ho parlato con suo figlio e con le persone che lo conoscevano, e ho approfondito la sua attività di artista. Quello che mi ha colpito di più è la sua onestà. Non aveva mai paura del fatto che alle persone potesse non piacere quello che faceva." (fonte ARTRIBUNE).