"Guida illustrata al frastuono più atroce": dal 20 al 23 giugno al "CRACK fumetti dirompenti" di Roma
Da domani 20 giugno e fino a domenica 23, Simone Lucciola e Rocco Lombardi saranno presenti al CRACK fumetti dirompenti – Rome Festival of Drawn and Printed Art – Anno 15 con la ristampa integrale dei due volumi della "Guida illustrata al frastuono più atroce".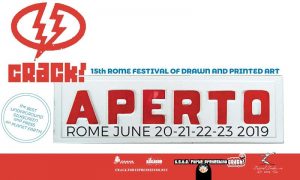 Alcune foto del libro: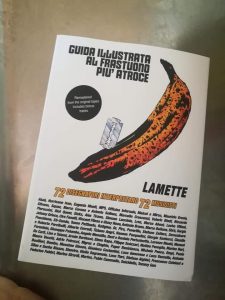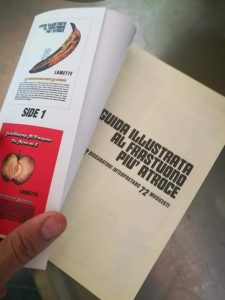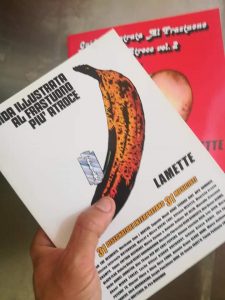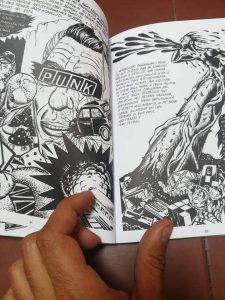 Il volume raccoglie i contributi di 72 autori italiani che interpretano altrettanti musicisti, una edizione accurata ed ampliata rispetto alle precedenti grazie alla produzione di In your face Comix.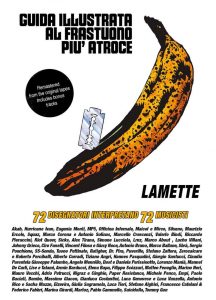 GUIDA ILLUSTRATA AL FRASTUONO PIÙ ATROCE
Remastered from the original tapes. Includes bonus tracks
VOLUME UNICO
Pagine: 276 bianco e nero, copertina a colori con alette
Formato: 15×21 cm
Rilegatura: Brossura con alette
ISBN: 978-88-97571-17-9
Prezzo: 18,00 euro
Torna dopo quasi una decade la GUIDA ILLUSTRATA AL FRASTUONO PIÙ ATROCE di Lamette Comics, in un volume unico targato In Your Face Comix: 72 disegnatori interpretano 72 musicisti, nella nuova edizione Remastered from the original tapes. Include bonus tracks. Vale a dire che i due volumi originali del 2009 e 2010, liberamente ispirati alla celeberrima e (quasi) omonima raccolta di scritti rock di Lester Bangs, sono ora accorpati in un'opera omnia supervisionata dai curatori storici Simone Lucciola e Rocco Lombardi (Lamette) e arricchita da una doppia prefazione di Luca Frazzi (Rumore, Bassa Fedeltà, Sottoterra) e Manuel Graziani (Rumore).
Ma la vera ciliegina sulla torta sono le bonus tracks, che vanno da ampliamenti di storie già incluse – con una serie di tavole aggiuntive assenti nella prima edizione – a storie nuove di zecca realizzate appositamente per questo progetto da ulteriori e più giovani autori in linea con lo spirito dell'operazione, alle prese con altrettanti musicisti che mancavano all'appello.
Ancora una volta, si tratta di un'autoproduzione punk, fedele nelle intenzioni al suo precedente editoriale che esaurì 2000 copie con la collaborazione formato famiglia del mondo del fumetto e del circuito underground italiano, suscitando l'interesse della stampa nazionale (Rumore, Repubblica, Il Mucchio, Slowfood) e dando origine a un piccolo filone di pubblicazioni simili.
Tiratura limitata a 700 copie: inizia il conto alla rovescia. Non fatevela scappare!
Introduzione di Luca Frazzi
Introduzione di Manuel Graziani
SIDE 1 GUIDA ILLUSTRATA AL FRASTUONO PIÙ ATROCE
Squaz – CAPTAIN BEEFHEART
Sergio Ponchione – WIRE
Valerio Bindi – VELVET UNDERGROUND
Simone Lucciola – NICO
Johnny Grieco – BOWIE
Antonio Bruno – KLAUS NOMI
Lucho Villani – DJANGO REINHARDT
Sicks – DANIEL JOHNSTON
Officina Infernale – MOTÖRHEAD
Hurricane Ivan – I BRUTOS
Sbrò – NERORGASMO
Marco Bailone – TRUZZI BRODERS
Ratigher – WRETCHED
Maicol e Mirco – UOCHI TOKI
Dr. Pira – MANOWAR
Lrnz – DEVO
Tuono Pettinato – THE DAMNED
Marcello Crescenzi – BLACK FLAG
Riccardo Pieruccini – DEAD KENNEDYS
Maurizio Ercole – THE CRAMPS
Silvano – MISFITS
MP5 – RAMONES
Marco Corona e Antonio Solinas – GG ALLIN
Marco About – MINOR THREAT
Riot Queer – GERMS
Alex Tirana – RED HOT CHILI PEPPERS
Ciro Fanelli – PSYCHIC TV
Eugenia Monti – ATARI TEENAGE RIOT
Akab – THE RESIDENTS
Vincent Filosa e Giusy Noce – COWS
SIDE 2 GUIDA ILLUSTRATA AL FRASTUONO PIÙ ATROCE VOL. 2
Paolo Bacilieri – MC5
Filippo Scòzzari – IGGY POP
Giuseppe Palumbo – THE DOORS
Stefano Zattera – PERE UBU
Luca Tieri – NEW YORK DOLLS
Adrio Petrucci – JOHNNY THUNDERS
Luca Genovese e Luca Vanzella – THE MODERN LOVERS
Giulia Sagramola – THE BEATLES
Elzevira – ROLLING STONES
Tiziano Angri – KRAFTWERK
Lise e Talami – FAUST
Massimo Giacon – GAZNEVADA
Puverille – KANDEGGINA GANG
Zerocalcare e Roberto Perciballi – BLOODY RIOT
Antonio Sileo e Sacha Biazzo – NEGAZIONE
Claudio Parentela – KRISMA
Manuel De Carli – BLONDIE
Lorenzo Manià – SUICIDE
Empi – DEAD BOYS
Armin Barducci – SEX PISTOLS
Mauro Vecchi – THE STRANGLERS
Matteo Fenoglio – X
Giorgio Santucci – CIRCLE JERKS
Paper Resistance – BORN AGAINST
Gianluca Costantini – PIL
Alberto Corradi – JOY DIVISION
Hannes Pasqualini – BAUHAUS
Dast e Daniela Perissinotto – CHRISTIAN DEATH
Elena Rapa – SIOUXSIE AND THE BANSHEES
Angelo Mennillo – THE BIRTHDAY PARTY
Marino Neri – LYDIA LUNCH
Bombo – THE LORDS OF THE NEW CHURCH
Nigraz e Cinghio – MELVINS
Michele Penco – ROXY MUSIC
BONUS TRACKS
Federico Fabbri e Francesco Catelani – ANAL CUNT
Marina Girardi – PATTI SMITH
Martoz – ROCKET FROM THE TOMBS
Pablo Cammello – SYD BARRETT
SS-Sunda – FAUSTO ROSSI
Stefano Alghisi – HOWLIN' WOLF
Suicidella – TELEVISION
Tommy Gun – THE CLASH
EXTRAS
Introduzione originale Guida
Introduzione originale Guida Vol. 2
Prima di copertina originale Guida Vol. 2
Quarta di copertina originale