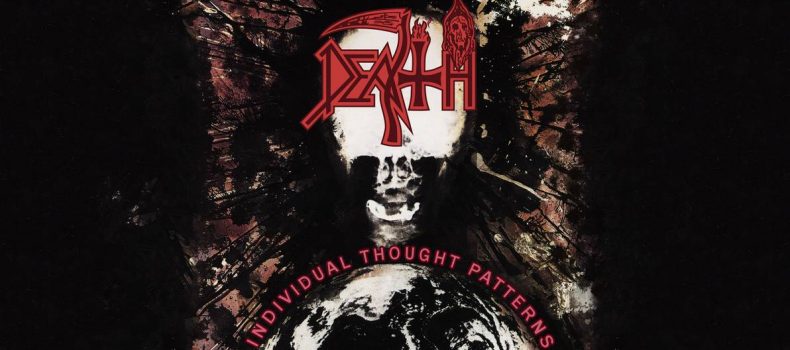 22 giugno 1993: esce "Individual Thought Patterns" dei DEATH
di Skatèna
I know there is no way to avoid the pain that we must go through, 
to find the other half that is true.
Destiny is what we all seek.
Destiny was waiting for you and me
Io so che non c'è modo di evitare il dolore e che dobbiamo affrontarlo
per trovare l'altra metà di questa verità.
Il Destino è ciò che noi tutti inseguiamo.
Il Destino sta aspettando me e te
Il 22 giugno del 1993 usciva Individual Thought Patterns, quinto album dei Death, gruppo death metal originario di Orlando, Florida, fondato nel 1983 dal chitarrista Chuck Schuldiner e disciolto dallo stesso nel 1999. 
Schuldiner, venuto prematuramente e tragicamente a mancare nel 2001 – a soli 34 anni – per un tumore al cervello, è stato chitarrista e compositore dalle incontestabili ed immense doti musicali, e i Death, in un'epoca in cui si assisteva all'esplosione del thrash, hanno indiscutibilmente attuato una rivoluzione musicale senza precedenti.
Ecco la tracklist di Individual Thought Patterns e l'album per intero caricato su youtube.
Side A
1. Overactive Imagination
2. In Human Form
3. Jealousy
4. Trapped in a Corner
5. Nothing Is Everything
Side B
6. Mentally Blind
7. Individual Thought Patterns
8. Destiny
9. Out of Touch
10. The Philosopher
Si tratta di un disco – capolavoro, che racchiude 10 tracks per una durata totale di circa 40 minuti  di potenza sonora, con repentini cambi di tempo, tecnicismi e varietà stilistica che ben si innestano sulle tematiche orrende e lugubri ma, allo stesso tempo, filosofiche e profonde dei testi. 

Di seguito il videoclip di The Philosopher, brano dai riff tecnici e melodici mozzafiato.
Do you feel what I feel, see what I see, hear what I hear
There is a line you must draw between your dream world and reality
Do you live my life or share the breath I breathe
Lies feed your judgment of others
Behold how the blind lead each other
The philosopher 
You know so much about nothing at all
"Hanno sempre attaccato duramente i miei testi, sono stato accusato di essere blasfemo e demoniaco.
'Individual Thought Patterns' sarà un concept sulle persone che sono costretto ad affrontare ogni giorno, cose che sono stufo di vedere, pregiudizi della gente, l'incapacità della gente di pensare con la propria testa, la gente là fuori e quella all'interno di questo business, che a mio parere rappresenta il male puro.
Questo business ti fotte e sicuramente i testi riflettono le persone che sono presenti in questo mondo, sono un buon modo per riassumerne le caratteristiche.
Mi piace parlare della realtà, a volte la vita é peggiore di molti incubi.
I testi vanno presi molto sul serio, perché in qualche modo sono una parte di me.
Spero di comunicare agli ascoltatori alcune cose su di me, i sentimenti, i momenti difficili che ho passato" (1993)
R.I.P. Chuck Schuldiner (1967 - 2001)