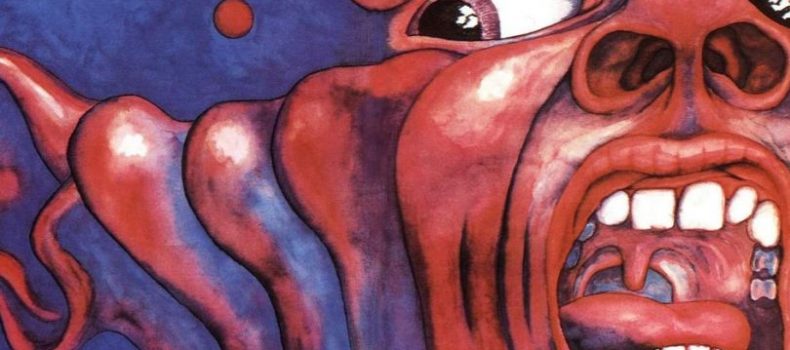 "In The Court of the Crimson King", capolavoro sbalorditivo del prog rock
Death seed blind man's greed
Poets starving, children bleed
Nothing he's got he really needs
Twenty first century schizoid man
di Skatèna
Esattamente 50 anni fa i britannici King Crimson pubblicavano per la Island Records il loro storico album d'esordio In the Court of the Crimson King, pietra miliare del rock progressivo che Pete Townshend degli Who non esitò a definire "un capolavoro sbalorditivo". Opera impareggiabile, originale e complessa, miscela di sperimentazione e poesia visionaria, le sue musiche seppero ben interpretare l'ansia, il senso di sconforto e l'inquietudine che imperavano alla fine dei fabulous sixties, arrivando a sconfinare dal rock per attingere dai repertori di generi altri, in primis jazz e classica.
Per la copertina del disco, quella mente geniale del carismatico Fripp scelse che vi fossero raffigurati, davanti e all'interno di essa, due dipinti, da lui stesso ancor oggi gelosamente custoditi, realizzati all'epoca da Barry Godber.
Imprescindibile in qualsiasi collezione progressive che pretenda un minimo di completezza, affascinante e forte sin dalla arcinota e mitica copertina, pieno di atmosfere sinistre e poi dolci e anche tutte e due insieme, assoluta vetrina per il mellotron questa strana tastiera a nastri preregistrati, un po' stonata ed inaffidabile, con suoni insieme glaciali e caldi nella loro precaria elettromeccanica (storiadellamusica.it)
Di seguito, 21st Century Schizoid Man, la traccia di apertura del disco, eseguita nel memorabile concerto tenuto ad Hyde Park nel 1969, quando la band del Re Cremisi fece da spalla ai mitici Rolling Stones:
21st Century Schizoid Man è stata coverizzata da numerosi artisti, tra i quali ricordo per esempio Ozzy Osbourne, Emerson, Lake & Palmer, ma anche i nostrani Afterhours e PFM.